This year the Open Day of the AGH University of Science and Technology in Kraków took place on friday 13th April.
Here's how it looked at the AGH Faculty of Humanities, where we had prepared several attractions for the high school students visiting us.
At our scientific club stand, they could listen about the fields of studies in our faculty which they were interested in, as well as take part in the quiz with prizes. At the same time, we were also conducting workshops on the use of eyetracking in social resarch and UX. The workshop was conducted by Sebastian Medoń – president of Students of Sociology Scientific Club at AGH UST (KNSS AGH).
Warsztaty eye-trackingowe
Stanowisko KNSS na Wydziale Humanistycznym AGH
Stanowisko WH w budynku A-0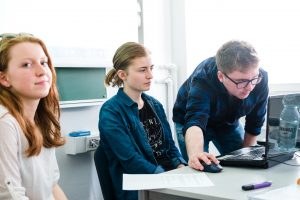 Photos by Wojciech Kobylański